I think knitting mittens is addictive. Really, the options for mittens are pretty much unlimited. Cables. Colorwork. Fancy texture stitches. And you can show them off. Unlike socks, where you must remove your shoes to show off the whole thing, you can easily pass your mittens around a group of impressed friends/family/coworkers. Living in Boston makes mittens a must-have. Last year, I made a pair of orange and white mittens from Cascade 220. I love these mittens. Also, I learned something very important. I don't like "wimpy" mittens. I mean mittens in fingering weight. I have found that some nice worsted wool and my trusty US2 dpns make a very warm, durable mitten. Heck, I wore my orange/white ones daily throughout the winter and they never even felted! So, when looking at the Ravelry boards... there was a cry for mitten test knitters--- I answered the call. A sadly blogless Sophia asked me to test knit, Maude, a pattern to be available in the fall, I think.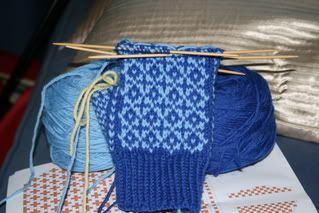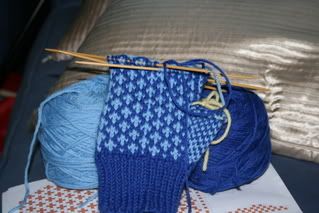 A few mods to Maude. The first, it called for fingering weight. I cast on with Cascade 220. Right now, I am searching for typos, confusing directions and any errors.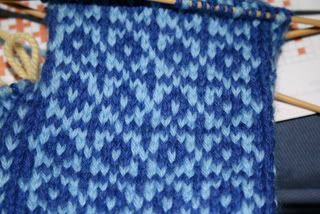 A few comments.
1. great pattern.
2. easy to memorize. I have been knitting from memory since the first repeat.
3. easy to swap around colors. I have chosen tone on tone blues, but image this in stark white and red. Or a charcoal gray and bright green.
Mittens will be filling my Christmas knitting basket this year.
Tell me: what's your favorite mitten pattern?